Guided Tours for Groups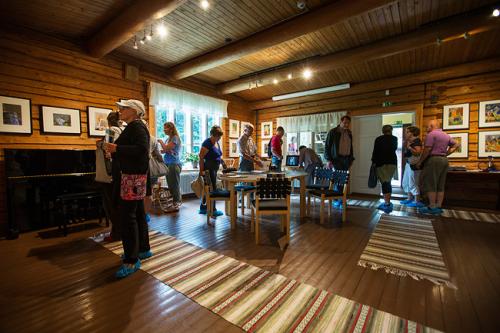 Artist Home Erkkola is closed for now until 31st of March 2021.
A guided tour can be booked at Erkkola giving more detailed information on the life and works of J. H. Erkko as well as about the history and exhibitions of the house.
Cost: 40 € plus Entrance fee 6/4/2 € per person.
Lenght: The guided tour takes about 20 minutes, about one hour should be reserved for the entire visit.
Group size: The maximum group size is 40 persons. Larger groups can visit in two smaller groups. Due to the COVID-19 maximum group size is 20 persons.
If a booking is not cancelled, a cancellation fee of 50 € (incl. 24 % VAT) will be charged.
Kindly book your guided tour 7 days before your visit at the latest.
Note: The situation considering tour visits may vary because of changing covid restrictions. Contact us for up-to-date information.
Book a tour
by email: erkkola(a)tuusula.fi
by phone:
+358 40 314 3471 (Erkkola reception during opening hours) or
+358 40 314 3465 (Museum assistant Topias Ahola)