J. H. Erkko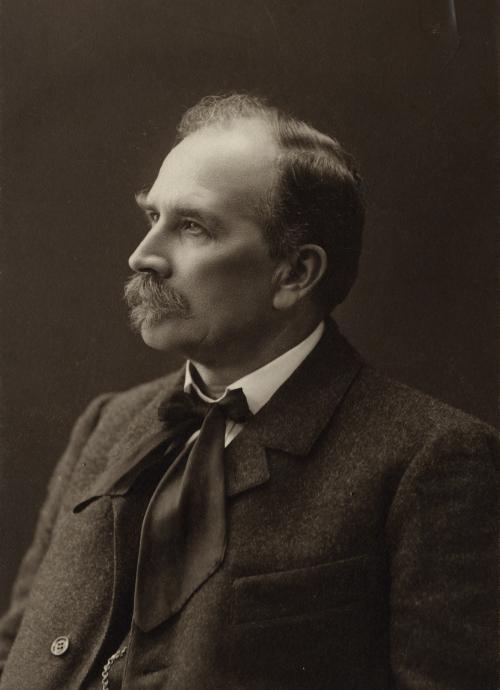 A poet must be the eyes of progress, the mouth of truth, the conscience of mankind.
- J. H. Erkko on 27 June 1893 when writing Kullervo
Juhana Heikki Erkko (or Johan Henrik in Swedish) was born on a farm in Orimattila on 16 Januray 1849 as the eldest of five children. Also his brothers Eero (1860-1927) and Elias (Ruuto) (1863-1888) became renowned authors and journalists.
At the age of 21, as a young student at the teachers' seminar in Jyväskylä, he published his first poems. His teacher A. E. Hagfors, the father of Finnish music education and choir singing, composed and arranged several of Erkko's poems.
Erkko was a popular and dedicated teacher. In his twenty years in the office, he carefully mentored his pupils and even followed their lives after school. In the 1880's and 1890's he traveled in Europe and in 1900 even to Egypt and Palestine. Erkko was one of the founding members of The Union of Finnish Writers in 1897 and its chairman 1902-1903.
Erkko's work and activities were characterized by the Fennoman movement. His time at the teachers' seminar in Jyväskylä was in an era when Finnishness was forged in the spirit of romanticism. This gave his work an optimistic undertone and the trust in the triumph of education.
The Fennoman movement evolved in the late 19th century especially among young cultural influencers into a pragmatic and comprehensive action plan. Erkko, a man of the older generation, was prepared to promote proven ideals not only in his writing, but also in practice.
For Erkko, language was the instrument of public education, and only education was the way to power. Erkko actively worked to improve the status of the Finnish language i.e. by supporting the building of Finnish-speaking schools. When living in Vyborg, he founded a public library and in Tuusula he donated an extensive book collection to the library. J. H. Erkko also promoted the work of youth associations, temperance societies and workers' associations, which all had strong educational endeavours in the late 19th century.
J. H. Erkko died in Helsinki 16 November 1906. His funeral on November 19th was a national celebration of mourning. His coffin was carried by his brother Eero Erkko as well as his friends author Juhani Aho, painter Pekka Halonen, poet Eino Leino, composer Oskari Merikanto, professor and politician E. N. Setälä, K. A. Castrén and patron of arts Juho Lallukka.