Artist Home Erkkola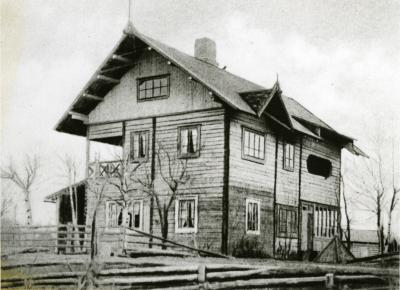 The artist home of poet J. H. Erkko was finished in 1902 at road Rantatie in Tuusula, close to the cottage where author Aleksis Kivi had passed away in 1872. Erkko wished to live close to the last abode of the inspiring and admirable author. Erkko got to live in his house for nearly five years, until his death in 1906.
Erkkola was built around a cottage called Oksala on the lands of the Pekkala farm. Painter Pekka Halonen – who had his house built at the same time – instructed the builders. Erkkola was built by the same crew of men that also built Halosenniemi. Their foreman was Antti Halonen, Pekka's brother. The log house covers about 300 square meters (about 3330 square feet) on two levels and has eight rooms. The building is an example of National Romantic style. The ample Karelian-style living room is furnished with a beautiful fireplace made of green tiles.
After Erkko's death, the Erkkola house was a private home until 2006. In 2007 it was purchased by the municipality of Tuusula thanks to the funds donated by the Jane and Aatos Erkko Foundation. The foundation has also contributed to the restoration of Erkkola to its original glory. J. H. Erkko was the great-uncle of Aatos Erkko, the former main owner of the newspaper 'Helsingin Sanomat' and one of the wealthiest persons in the country.
In 2007 and 2008 Erkkola received substantial grants from The Finnish Cultural Foundation to start its operation.
The artists' community of road Rantatie in Tuusula
In the late 1890's and early 1900's a community of artists arose on the east shore of Lake Tuusula. The artists of the area had an impact on the cultural life of the entire nation. In the core of the community were main influencers of Finnish culture: author Juhani Aho, his spouse and painter Venny Soldan-Brofeldt, painters Pekka Halonen and Eero Järnefelt, poet J. H. Erkko and composer Jean Sibelius. Also poet Eino Leino, editor Matti Kivekäs, author and poet Juhani Siljo as well as composer Robert Kajanus spent shorter periods in the community.
The artists were close friends and colleagues. They were vigorous spokespersons for the Finnish culture and depicted their visions and sensations in their art, writing and speech. The artists were also international and became aware of its significance when cultivating national art and culture.