Halosenniemi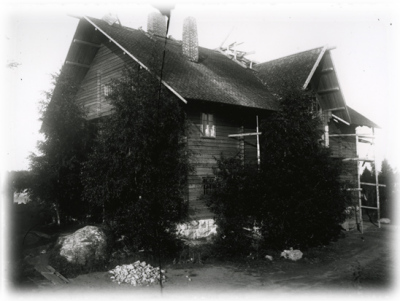 Pekka Halonen and his family settled in peaceful and quiet Tuusula in 1898. In Tuusula Pekka Halonen often combined skiing and painting trips by Lake Tuusula and on one of his trips he fell in love with a place he declared to be the perfect spot for his own little cabin. That place became later the imposing pinewood villa known as Halosenniemi. Halosenniemi was designed by Pekka Halonen himself and his brother Antti Halonen and was completed in 1902.
Architecture of Halosenniemi can be seen as an expression of the cultural aspirations of the National Romantic era. In the early 1890s, many Finnish artists built year-round studio-villas to rural areas. Their aim was to build a distinctive Finnish style by integrating local architecture and elements borrowed from various other cultures. In the design of the villas artists adapted the layout of the two-storey studios they had seen in Paris: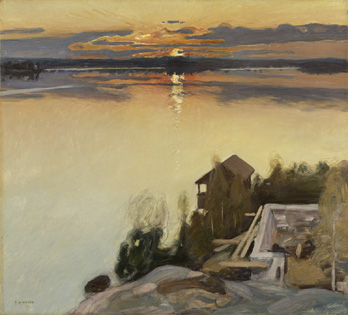 high ceilings, large windows and stairs leading up to first-floor living quarters via an indoor balcony. In journals such as The Studio, artists studied pictures of English country homes with open fireplaces. Finnish artists also borrowed a mixture of influences from Norwegian, Swedish, Swiss and Russian architecture, which they incorporated with elements adapted from the design of Karelian log houses and other local styles of Finnish architecture.