Pekka Halonen (1865-1933)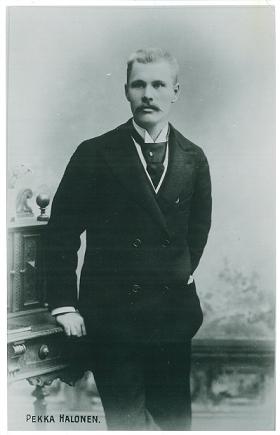 Pekka Halonen was born in a peasant family in Lapinlahti in Northern Savo on 23rd September 1865. It was unusual for a farmer's son to become an artist in late 19th century Finland but Pekka Halonen was blessed with natural gifts and developed an early interest in arts and culture through the influence of his parents. Halonen's father, Olli Halonen was endowed with artistic talents. In addition to running the farm, he worked as a decorative painter accepting commissions from churches in neighbouring districts. As a young boy, Halonen often accompanied his father on these painting trips which can be seen as his initiation into the craft of painting. His mother, Wilhelmiina (Miina) was deeply religious and musically gifted. She was an accomplished composer and player of the kantele, conveyed her love for music to her children and introduced them to classic works of literature. Halonen also inherited a love and appreciation of nature from his mother.
Studies
Pekka Halonen studied first at the Finnish Art Society´s Drawing School in Helsinki for four years. He graduated from the Drawing School with excellent grades in the spring of 1890 and received a scholarship to continue his studies abroad. Like many other Finnish artists of his generation, he packed his bags and set off for Paris. There Halonen studied at private art schools concentrating to his studies with great diligence. Halonen depicted his countrymen with great honesty and sensitivity, displaying a remarkable gift for capturing a vivid and authentic portrait of the Finnish national character.
Tuusula Years
In 1895 Pekka Halonen married a young music student, Maija Mäkinen. At early years they lived in several places before settling down to peaceful and quiet Tuusula in 1898.
In Tuusula Pekka Halonen often combined skiing and painting trips by Lake Tuusula and on one of his trips he fell in love with a place he declared to be the perfect spot for his own "little cabin". That place became later the imposing pinewood villa known as Halosenniemi. Halosenniemi was designed by Pekka Halonen himself and his brother Antti Halonen and was completed in 1902.
Pekka and Maija Halonen with their children in 1903. When having his own studio, Halonen was finally able to devote himself to painting in the peace and quiet of the countryside. Through the years Pekka and Maija Halonen's family grew and the family lived modestly and happily in Tuusula. Pekka and Maija had eight children, four sons and four daughters. Maija was a very hard working and skilled woman. She sew clothes, tended vegetable garden and translated literature from Italian, Norwegian, Swedish and German into Finnish.
For Pekka Halonen the views near Halosenniemi became an inexhaustible source of inspiration for his art. Many of his paintings depict simple scenes from his everyday surroundings, such as Sauna in the Snow (1908), which vividly captures the stillness and subtle fragrance of freshly fallen snow. In Tuusula Halonen had a wide circle of artist friends and relatives which provided him with a daily source of social and cultural stimulation.
Halonen's appreciation of nature

In an interview published in Nya Pressen 1932 Pekka Halonen sums up his ideas of art: "Art should not jar the nerves like sandpaper - it should produce a feeling of peace. Ever since I was a young boy, I have been unable to see it any other way. I have never painted for anyone but myself. Searching for peace and harmony through my art has become part of my religion, so to speak. Nature is my inspiration. For over 30 years, I have lived in the same place, surrounded by woodlands. I often feel as if I have the whole Louvre and the world´s most precious art treasures right here on my doorstep. I need but step into the forest to see the most wonderful works of art ever created - and I ask for nothing else. My paintings are not naturalistic, even though I do my best to portray nature as faithfully as I can. Nature is the skeleton, but the flesh of the painting is its atmosphere - the mood is everything. Whether it comes from inside or outside me, I cannot tell. I don´t waste time thinking about problems - I just go out, and one fine day I might find what I am looking for, and then I simply must capture it on canvas."
Pekka Halonen died on the 1st of December in 1933 in Halosenniemi. He is buried by the Tuusula church in the old Tuusula cemetary. Gravestone was made by his cousin, sculptor Emil Halonen. Maija Halonen died in 1944. In 1949 the house was sold to Tuusula municipality on the condition that it was to become a museum.